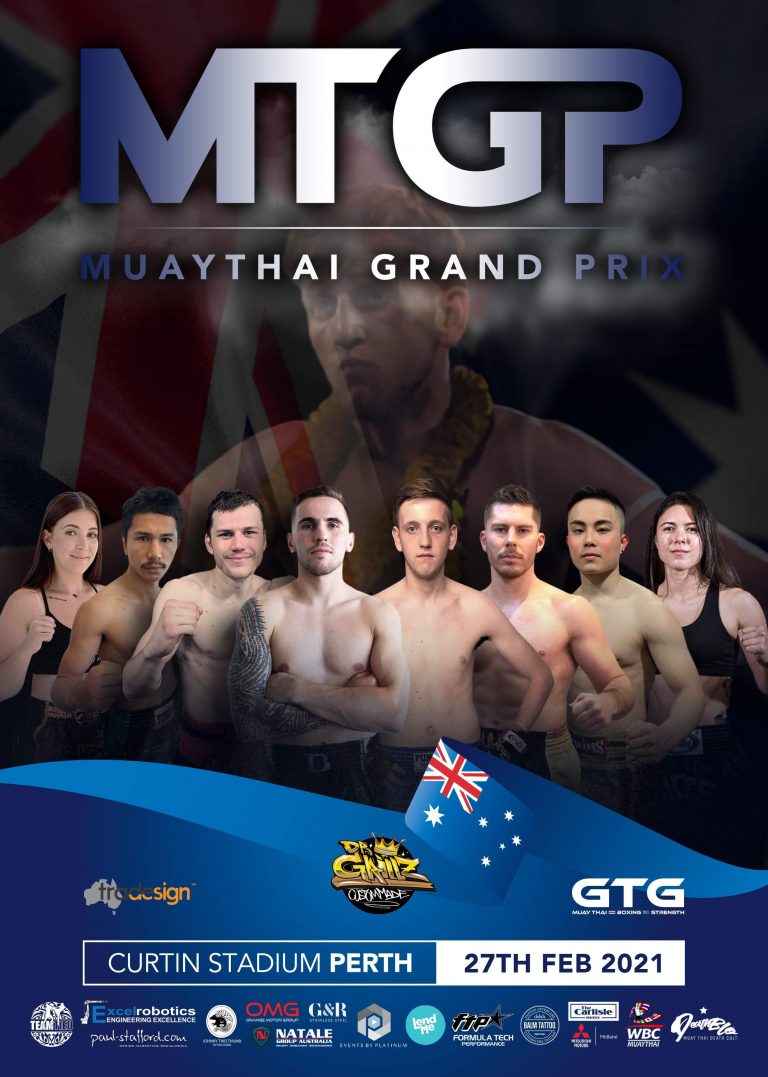 As the start of 2021 saw COVID-19 restrictions began to lift it was exciting to welcome interstate fighters back to Perth to fight on the MTGPAustralia stage.
The Main Event and WBC Super Middleweight International Title fight was a highly anticipated bout between Scotland's George Mann and Australia's David Pennimpede, and after 5 entertaining rounds George came away as the new WBC International Champion.
Two other WBC belts were contested for – with Tiffany Lam producing a masterclass against Sharayah-Lee Berecz, to come away with the Super Featherweight State title. A thrilling rematch between Leo Nguyen and Tim Mitchell, deemed worthy of Fight of the Night, saw Leo remain as the WBC Super Lightweight State Champion.
Other notable fights on the card include Bryony Soden getting another MTGP win over the experienced Shannon Peek and an exciting bloody battle between Riley Anastas and Chris Watt. Another incredible night of fights on the first Pro W.A show of the year, setting us up to look forward to another 3 MTGPAustralia events planned for the rest of 2021.
Sha Wa Wah Ker Paw  (Lovett MuayThai) def Callum Bonnie (Samsingto) – UPD
Shay Woolmer (Fitness Fight Complex) def Amelia Elias (GTG) – UPD
Amie Jade Staniscia (GTG) def Mids Kendall (Legends Academy) – UPD
Tash Leslie (Wolves Den) def Angela Lunghitano (GTG) – UPD
Jayden Mills (SMG) def Jack Briggs (Monsters Inc) – UPD
Bryony Soden (Samsingto) def Shannon Peek (BFT) UPD
Leo Ngueyn (Pit) def Tim Mitchell (Legends Academy) – Split Draw
Nilson Laki (Monsters Inc) def John Morton (Morfit) – UPD
Jay Twomey (Legends Academy) def Brant Soden (Samsingto) – Split Decision
Stephen Kirk (GTG) def Doug Lloyd (Team Pinky) – Split Decision
Teerawat Hoysung (BFT) def Jason Tran (AMMA) – UPD
Eddy D'Uva (Riddlers) def Tomasso Aloe (GTG) – UPD
Damon Nelson (LANNA) def Jason Scott (Team Pinky) – KO
Tiffany Lam (GTG) def Sharayah-Lee Berecz (Sunset MT) – UPD
Riley Anastas (Riddlers) def Chris Watt (Legends Academy) – Split Decision
George Mann (Riddlers) def David Pennimpede (MuayU Canberra) – UPD

The one and only MTGP event of 2020, in a W.A first, showcased 2 shows in one day; Road to MTGP and MTGP.
Junior and amateur fighters  produced an entertaining display of the up and coming talent that W.A has to offer, concluding with a thrilling Main Event with Mat Diesel of Bailey Fitness defeating Dave Flanagan of Kao Sok.
After a cancellation of the Main Event on the day, due to an injury that saw Max McVicker hospitalised, Chris Watt and George Mann stepped up to headline the Main Event card.
2 WBC title battles were hard fought for and won by Megan Berberick (WBC Featherweight State Champion) and Leo Nguyen (WBC Super Lightweight State Champion), alongside a host of exciting MuayThai bouts from our wealth of local talent.
Full results are below:
Road to MTGP:
Isabella Smartt (Fitness Fight Complex) def Alana Illarietti (Arena Martial Arts) – UPD
Callum Bonnie (Beastmasters) def Thai Vuletich (Aggressive MuayThai) – UPD
Kahn Wilson (BFT) def Carl Gorski (Monsters Inc) – UPD
Jack Doyle ( Diesel) def Cody Irvine (Aggressive MuayThai) – UPD
Gabriel Ronquillo (Westside) def Jack Currican (Beastmasters) – Split Decision
Adrian Skelly (Legends Academy) def Lachie Donaldson (GTG) – Split Decision
Ben Coleman (Riddlers) def Luke Fatin (Pichitchai) – UPD
Tash Leslie (Wolves Den) def Courtney Murray (Tetsuko) Split Decision
Jordon Fletcher (LANNA) def James Gifford (Riddlers) – Split Decision
Ashby Tink (Wolves Den) def Ronin Davies (Fighting Power) – TKO
Talia Basso Brusa (Riddlers) def Le Le Duong (Legends Academy) – Split Decision
Nathan Embleton (Aggressive MuayThai) def Jayden Mills (SMG) – UPD
Matt Diesel (BFT) def Dave Flanagan (Kao Sok) – TKO
MTGP Main Card:
Amie Jade Staniscia (GTG) def Celine Wislaug (Westside) – TKO
Jay Twomey (Legends Academy) def Caleb Leung (Pit) – UPD
Louis Abbott (GTG) def Marcus Walker (Pit) – TKO
Bryony Soden (Beastmasters) def Sim Sehmi (Riddlers) – UPD
Kaitlyn Vance (BFT) def Dani Bator (Riddlers – UPD
Jason Tran (AMMA) def Matthew Fernihough (LANNA) – TKO
Megan Berberick (Riddlers) def Shannon Peek (BFT) – UPD
Richard Simpson (GTG) def Morgan Rogerson (Pit) – UPD
Leo Nguyen (Pit) def Tim Mitchell (Legends Academy) – TKO
Tyler Hardcastle (Riddlers) def Damon Nelson (LANNA) – UPD
Marco Tentori (Pondy's Gym) def Lukas Sayer (Diesel) – Split Decision
George Mann (Riddlers) def Chris Watt (Legends Academy)